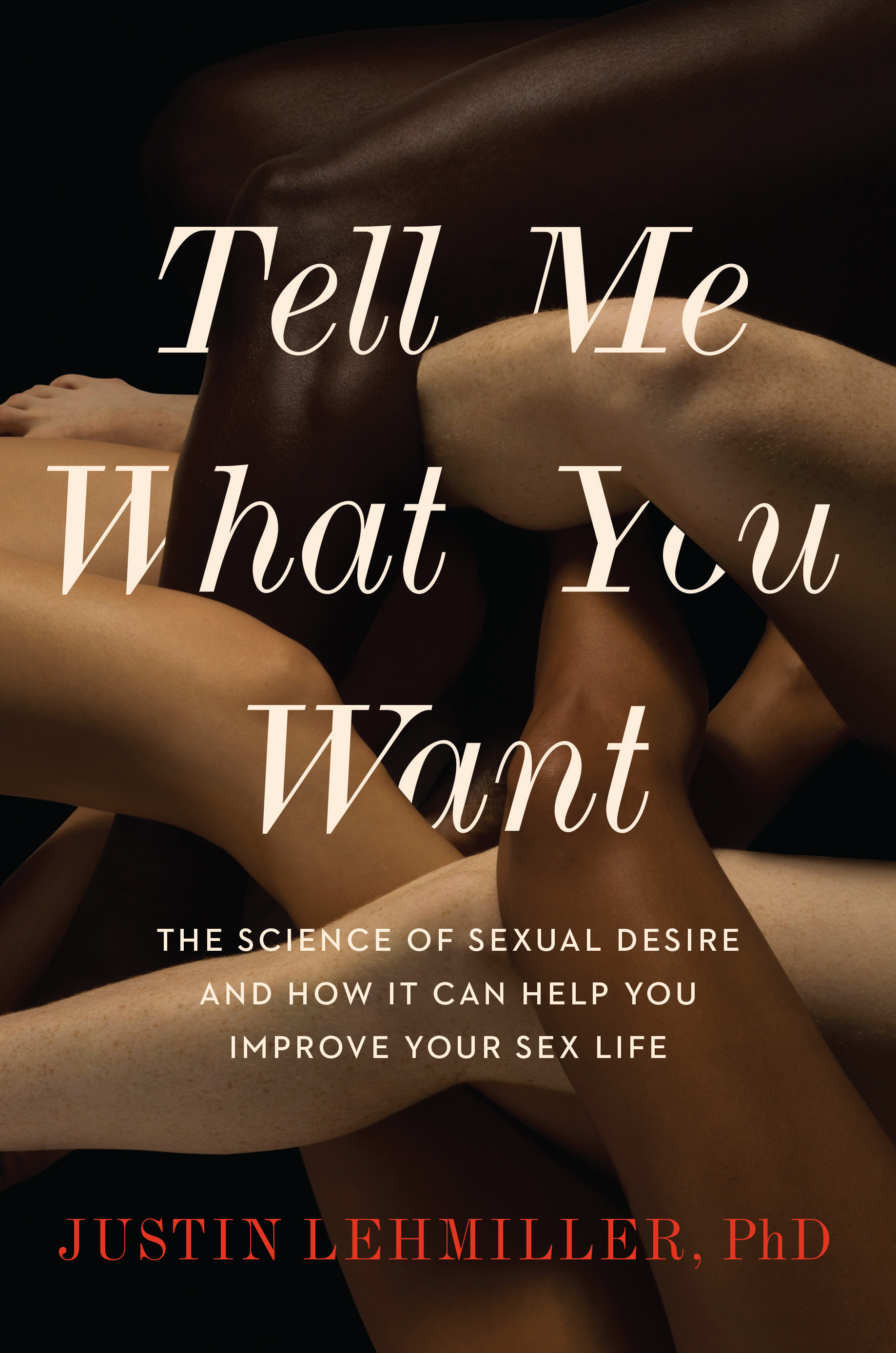 The largest survey of sexual fantasies in America--and what your sexual desires say about you
"If you've ever had a sexual fantasy and thought, 'Oh God, what's wrong with me?' a quick read of Tell Me What You Want: The Science of Sexual Desire and How It Can Help You Improve Your Sex Life might ease your mind." - The New York Times Sunday Book Review
What do Americans really want when it comes to sex? And is it possible for us to get what we want? Dr. Justin Lehmiller, a Research Fellow at The Kinsey Institute and author of the blog Sex and Psychology, has made it his career's ambition to answer these questions. He recently concluded the largest and most comprehensive survey of Americans' sexual fantasies ever undertaken, a monumental two-year study involving more than 4,000 Americans from all walks of life, answering questions of unusual scope.
Based on this survey, Tell Me What You Want offers an unprecedented look into our fantasy worlds and what they reveal about us. It helps readers to better understand their own sexual desires and how to attain them within their relationships, but also to appreciate why the desires of their partners may be so incredibly different.

Ultimately, this book will help readers to enhance their own sex lives and to maintain more satisfying relationships and marriages by breaking down barriers to discussing sexual fantasies and allowing them to become a part of readers' sexual realities.
Order today and receive a special bonus!
As a special thank you for ordering the book (available here), you will receive exclusive access to the following materials:
A bonus chapter from Tell Me What You Want that dives into the psychology behind some of the less common sexual fantasies (such as dressing up like an animal to have sex--also known as a furry fantasy). This chapter is not in the book and will contain information about sexual fantasies that you won't find anywhere else.

An exclusive video from the author in which he talks about why he wrote Tell Me What You Want and what you can expect when your copy of the book arrives.

Three infographics created from the largest survey of sexual fantasies in America (the survey that formed the foundation for Tell Me What You Want). These infographics contain data you won't find in the book and they focus on (1) the sex/kissing scenes from movies that we fantasize about most often, (2) the science fiction elements that are most likely to appear in our fantasies (aliens and robots and vampires, oh my!), and (3) the uniforms/costumes that we are most likely to fantasize about a partner wearing.
Already placed your order? Complete the form below to get access to the bonus materials!
Please complete the form below TO RECEIVE ACCESS TO THE BONUS MATERIALS. you will receive an email within 24 hours containing a link and password that will enable access To this special bonus (Please be sure to check your spam filter). If it has been more than 24 hours and you have not received an email, please click here to follow up.
Note: We respect your privacy. Information provided on this form will ONLY be used for the purpose of providing you with the bonus materials. Your information will not be sold or added to any mailing lists.
What people are saying about Tell Me What You Want
"Justin Lehmiller knows what you're into. Not since Nancy Friday has anyone so comprehensively and confidently blown the lid off our deep and secret desires, and revealed the extent to which we humans are endlessly inventive, flexible sexual and social strategists." - Wednesday Martin, PhD, New York Times bestselling author of Primates of Park Avenue
"Most Americans have sexual fantasies about threesomes, group sex, bondage, domination, submission, forced sex, open relationships and sex toys. Yet most of us don't know this, and are too embarrassed to reveal what we really want to our partners. Lehmiller's smart, warm, sex-positive book breaks the toxic silence around our sexual fantasies. Reading it may be the best thing you ever do for your sex life, your relationships and your self-acceptance." - Geoffrey Miller, PhD, author of The Mating Mind, Spent, and Mate
"A penetrating, erotic X-ray into the hidden recesses of our sexual psyches. Illuminating and incisive, Lehmiller lays bare the gray matter of great sex." - Ian Kerner, PhD, New York Times bestselling author of She Comes First
"Have a deep, dark sex fantasy that you've never shared with anyone? Turns out, you're not alone. Most people are afraid their sex fantasies are abnormal, but Justin Lehmiller's newest book reveals that understanding your erotic imaginings, and sharing them with your sex partner might be the best, healthiest thing you do all year. Tell Me What You Want educates, titillates, thrills and guides us down a marvelous, sexy path that ends in acceptance of those naughty secrets in the basements of our minds." - David J. Ley, PhD. author of The Myth of Sex Addiction
"Lehmiller's groundbreaking book points to an alarming divide between the conversations we're having about sex and the conversation we should be having about sex. It provides the nudge we need to change the conversation - and, in doing so, to live healthier, hotter lives." - Eli J. Finkel, PhD, Professor of Psychology, Northwestern University, author of The All-Or-Nothing Marriage
"Tell Me What You Want provides a scientifically grounded, non-judgmental assessment of where things stand in the sexual lives and fantasies of Americans. With an open-minded approach and fluid prose, this book is highly recommended for anyone looking for a road-map of where American sexuality is at the moment, and where many Americans would like to be going soon." - Christopher Ryan, PhD, co-author of the New York Times bestseller Sex at Dawn
"It's about time! A must read book for anyone who has ever wondered about our fantasy worlds and what they reveal about us. Lehmiller expands our sexual vocabulary, elucidates an extraordinary study, and brings science to the forefront to help us understand our sexual fantasies and the benefits of getting in touch with our deepest sexual fantasies." - Terri Orbuch, PhD, Distinguished Professor of Sociology at Oakland University and Author of 5 Simple Steps to Take Your Marriage from Good to Great
Want more?
Follow Dr. Lehmiller's blog, Sex and Psychology, and social media channels to keep up with his latest writings on the science of sex.